The City of Cape Town's Council has approved the very first inner-city transitional housing project, when they accepted the proposal that the Pickwick site, located on the corner of Pickwick and Copperfield Roads in Salt River, be developed for transitional housing.
When the Transport and Urban Development Authority (TDA) was established earlier this year, we said that the City has turned a corner in our approach to affordable housing and to tackle apartheid spatial planning.
Part of the undertaking is to, within our means, provide those who are facing emergency situations with safe, decent, and affordable temporary housing as close as possible to public transport.
The transitional housing development will be located in Salt River, less than 5 km from the Cape Town central business district and it is recommended that this project is development on the Pickwick site. The estimated cost is R11,1 million to develop the transitional housing project which will include access control to ensure the safety of those residing there. Once completed, a private non-profit agency will be contracted to manage the facility on behalf of the City. The development will provide households who have been displaced or evicted from their homes with transitional housing while opportunities for permanent housing are procured.
The City of Cape Town is also investigating the feasibility of developing further inclusionary housing projects in other parts of the city. There are more transitional housing projects in the pipeline – in Salt River, as well as in other areas in Cape Town. Our officials are conducting an audit of City-owned land parcels in Goodwood and Bellville. We will confirm the locations once we have established that the potential sites are suitable to include transitional housing.
In taking our work to the next level, I am pleased to also share a key highlight of the past month which was indeed a first for Cape Town and the country.
Green bonds 
In July, we took our inaugural green bond of R1 billion to the market where investors from across the country participated in a closed auction. It was something to behold to see how within two hours investors placed their bids which amounted to over R4,3 billion.
The City only went out for a R1 billion bond but with bids to the value of R4,3 billion coming in, the bond was significantly oversubscribed and this is a firm testament of the level of confidence which investors have in the City of Cape Town.  This followed a roadshow in June to investors across Cape Town and in Johannesburg.
I shared our City's successes which are underpinned by our excellent financial standing and prudent financial management arming investors with the information they needed to invest in our green bond. I further conveyed our commitment to addressing climate change and I am pleased that today Council will also consider our comprehensive Climate Change Policy.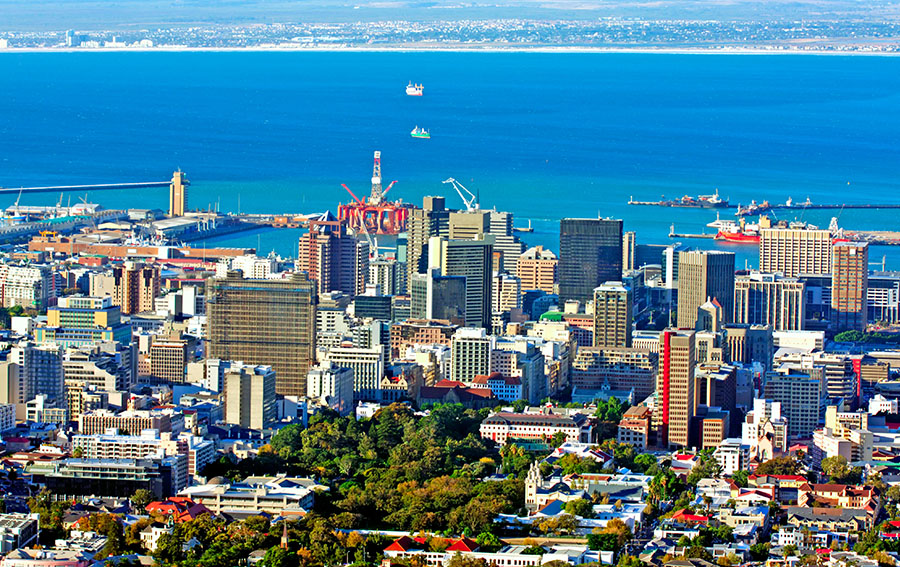 Even in financing, we have to change strategy because of the impact that climate change has on our infrastructure.
We went to the market for a green bond because currently we spend over R6 billion annually on infrastructure split, with 60% on new infrastructure and 40% on maintaining and repairing existing infrastructure.
The green bond allows us to add another R1 billion to that spend and scale up our investment to address this global challenge. The green bond is in line with our Organisational Development and Transformation Plan's governance principles of being a proactive, responsive and progressive city.
Green bonds will certainly be the way forward for us in terms of how we finance projects that also help us to build sustainable cities and reduce carbon emissions. 
Our green bond was certified by the Climate Bonds Initiative, while international ratings agency Moody's also awarded the bond a GB 1 rating – which means they are impressed enough with the green credentials and controls around this bond to name it 'Excellent'.
Some of the projects to be funded by the green bond include the procurement of electric buses, energy efficiency in buildings, and water management devices.
Another critical part of our climate change goals is energy security and making a greater contribution to reducing carbon emissions by introducing more renewables such as solar and wind energy into our energy mix.
Our energy goals include sourcing at least 20% of our energy needs from renewables by 2020.
The only obstacle to achieving that goal is our own National Government who is preventing us from procuring renewable energy directly from independent power producers (IPPs).
The City cannot proceed with such energy procurement because the Minister of Energy and the National Energy Regulator of South Africa (NERSA) consider that a prior determination in terms of Section 34 of the Electricity Regulation Act is required to do so. 
The Minister of Energy recently informed the City of Cape Town that she had placed a hold on all new determinations.
In light of the stance taken by the Minister of Energy and NERSA, the City will be launching a High Court application, copies of which will be served on the Minister of Energy and NERSA shortly, seeking the following substantive orders:
It is declared that a determination by the Minister of Energy in terms of Section 34 of the Electricity Regulation Act 4 of 2006 is not required for an independent power producer to create new capacity for the generation of electricity; to produce electricity by the capacity so created; and to sell the electricity so produced to the City of Cape Town
If it is held that such a determination is required, then the City of Cape Town claims an order declaring that Section 34 is unconstitutional and invalid
If it is held that such a determination is required but Section 34 is not declared invalid with immediate effect, then the City of Cape Town claims an order that the Minister of Energy determine the City of Cape Town's application for such a determination, made on 3 November 2015, within one month of this order
We are confident that we will be successful in our legal challenge which will also pave the way for other cities to do the same.
The majority of Eskom's electricity supply is also generated by dirty fossil fuels, contributing immensely to the global climate change crisis.
In order to live up to our commitments as climate change champions, we need to be able to take greater control over our own energy supply and ensure that we give the residents and companies of Cape Town a cleaner supply of electricity.
We are going to instruct investors looking after our money not to put our money into fossil fuel-related companies or for it to be used to fund the development of dirty and unsustainable projects. We want our investments to be aligned with our principles of resilience and sustainability.
The goal of the policy is for Cape Town to become a city that is climate resilient, resource efficient and lower carbon footprint.
---